MMF trustee, Moira Dunworth, shares some exciting news about a new book…
The Mamie Martin Fund is delighted to be one of two charities that will receive the royalties of Dr Alasdair Allan's book about the Scotland-England border – Tweed rins tae the Ocean. We first met Alasdair when he was Minister for International Development and Europe. He is from the Scottish Borders but lives in the Western Isles where he is the Constituency MSP.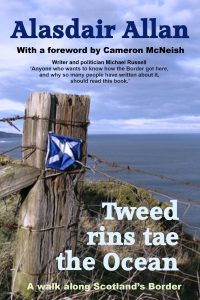 This book is about his east-to-west walk of the Border; it is more about the history, literature and language of the area than the actual walking, though he did that and is clear about its hardships and joys along the way. Hearing him speak about it at the launch in Blackwell's Edinburgh, made me eager to get reading.
Alasdair is generously dividing all his royalties between two small Scottish charities, the Mamie Martin Fund and the Western Isles Cancer Care Initiative. This means a great deal to us and we plan a project next year which will be loosely based on the book. Start thinking about borders and we will be in touch to frame a plan. It will include, but not be restricted to, navigating some of the route which Alasdair took. Those cyclists among us will be keen to travel west to east, ideally having the prevailing wind to help us on our way.
The book is published by Thunderpoint Publishing and is available from all independent bookshops. I am delighted to own the first copy which Alasdair signed and we are grateful for the good wishes to MMF which he included.