Margaret, regular donor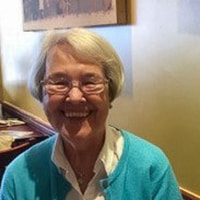 Margaret visited Malawi as part of a small group from local churches in 2003 and describes it as a 'life-changing experience'. She loved meeting and talking with Malawian people but was aware of the extreme poverty and the hardship in many people's lives.
Margaret came home from Malawi determined to support the organisations working to alleviate poverty and inequality.
---
Charlie, regular donor
"I donate regularly to the Mamie Martin Fund because my 3 year old daughter is desperate to go to school, and I know that will have such a brilliant impact on her life, and donating to MMF is just a small way of contributing to trying to create similar opportunities for girls where access to education can be more challenging."
---
Jaclyn, regular donor
Jaclyn Conington is a regular donor to MMF. She explains why it is so important to support girls' education in Malawi.
Jaclyn has been a music teacher for 19 years and got to know about MMF through Mariot, Mamie's granddaughter, also a music teacher.
"I had the pleasure of visiting Malawi in 2008 and witnessed first hand the amazing work the Mamie Martin Fund does. This is why I continue to donate regularly as regular donations are key to enable the girls to continue their education within a safe and stable environment that values girls."